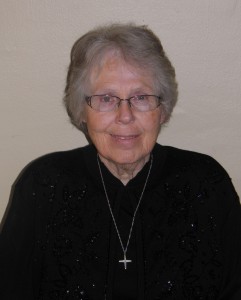 Sister Virginia Longcope was raised in Dublin, PA. In 1959 she made her first profession in the Congregation of the Missionary Sisters of the Sacred Heart of Jesus in Reading, Pennsylvania.  In 1969, she was awarded a bachelor's degree in elementary education from Villanova University, and for 18 years she taught elementary school throughout the Allentown and Philadelphia Dioceses. Sister earned a master's degree in Religious Studies at Saint Charles of Borromeo Seminiary that prepared her for a Clinical Pastoral Care program.  In 1985, Sister Virginia went from the doors of a fifth grade classroom in a small town near Whitehall, PA to the gates of a maximum security prison in Columbia, SC.   There she  completed a one-year Clinical Pastoral Education Program at a maximum security prison in Columbia, South Carolina, followed by a master's degree in social work from the University of South Carolina. From May of 1989 till September of 1992 she worked as a social worker in the S.C. Department of Corrections.
---
---
The founding of Stephen's Place was driven by Sister Virginia's mission to reach out to the disenfranchised members of our society; specifically, adult males leaving prison that had a need for a safe structured environment to deal with their substance abuse addiction as well as their history of non-violent criminal behavior.
With this vision, Sister returned to the Lehigh Valley in 1992.  The following year her dream became a reality.
A Board of Directors, volunteers, and a support staff  assist Sister Virginia to keep Stephen's Place a safe home for those men who are pursuing a new way of life.
In recognition of her dedication and contributions to the community, Sister Virginia was awarded an Honorary Doctorate from DeSales University in 2005. In March of 2015 Sister was honored for her service to the poor by the Allentown  Catholic Diocese.