October 9, 2020
Renovation at Stephen's Place
Our renovation is complete! Check out this video of the work!
July 25, 2020
September Bingo Canceled
Due to the pandemic we will have to cancel our annual Bingo which was scheduled for Sunday, September 23,2020. We are hoping we can resume it around the same date in 2021. Thank you for your support in the past and hopefully we will see you in Sept., 2021. In the meantime stay safe and stay well.
Sister Virginia Longcope MSC,
Director of Stephen's Place and the Board of Directors.
March 3, 2019
Bowling Night 2019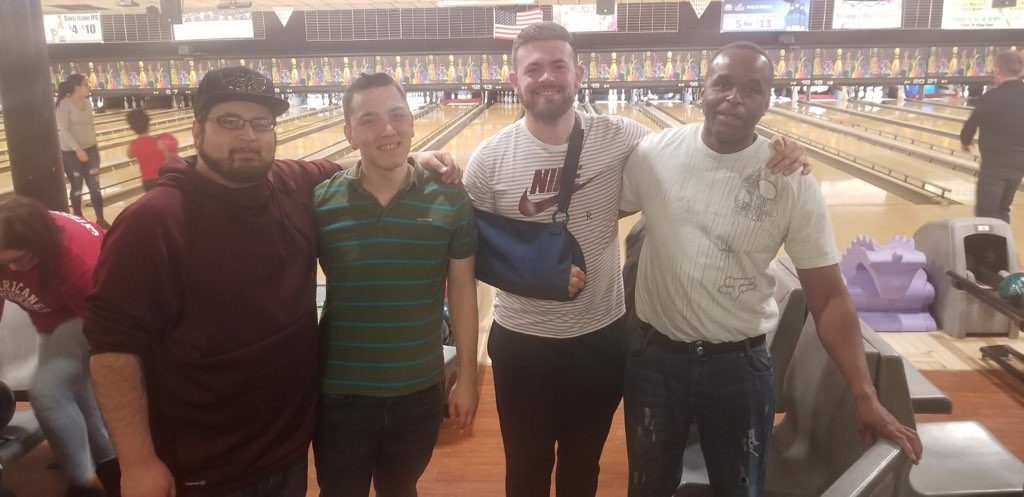 On Saturday February 23, 2019 the men of Stephen's Place ascended on the Town & Country Lanes for a night of Bowling and fun. On the ride over to the lanes the discussion was who would get the Turkey (roll 3 strikes in a row). Everyone said they could but only one person (Nick) accomplished such a feat. It's a good thing that we ate sandwiches from Lehigh Pizza before we left because the competition was fierce as we expended our energy trying to reach the highest score. There was an audience of (2) cheering us on, my grandson Dorian and one of our residents (Jared) who was unable to participate due to having surgery on his hand.
Overall we had a very good time sharing in laughter and fellowship as well as experiencing fun in recovery.
Recap by Sherman Myers
June 21, 2018
Stephen's Place Summer Newsletter
April 11, 2018
Stephen's Place reaches its Fund For the Future goal!
Sister Virginia Longcope Celebrates 25 years at
Stephen's Place, Inc.
BETHLEHEM, Pa. – April 25, 2018 — Stephen's Place, Inc. recently held Stephen's Place Fund for the Future in celebration of the 25th anniversary of Director Sister Virginia Longcope's tenure with the organization. The event, held on on April 15, was hosted at Our Lady of Perpetual Help's Marian Inn.
The event also recognized 25 years breaking the cycle of addiction in the community thanks to Sister Virginia's guidance. Stephen's Place, Inc. surpassed their goal of $25,000 raised during a 25-hour Fund for the Future event, an endowment created to carry Sister Virginia's legacy and Stephen's Place's mission into the future.
"I will take their hearts of stone and make them hearts of love"
-Sister Virginia Longcope
"Stephen's Place has been a source of hope and healing for non-violent offenders with histories of drug and alcohol abuse, helping them to rehabilitate – and rebuild – their lives"
-Sister Virginia Longcope
Ashley Russo, president and executive producer of ASR Media Productions served as event emcee. The ASR Media team produced a video about overcoming addiction that was featured at the Fund for the Future event.  The moving video tells the touching story of program graduate, Ray, who was greatly impacted by the work of Stephen's Place and Sister Virginia.
View the video HERE
Many dedicated supporters from the community were in attendance, including the Missionary Sisters of the Sacred Heart, Northampton County Drug Court Judge Craig Daly, Msgr. Edward Sacs from Our Lady of Perpetual Help, and keynote speaker Father Patrick Lamb. Pennsylvania state senator Robert P. Casey formally congratulated Sister Virginia for her 25 years of service directing Stephen's Place.
About Stephen's Place
Providing services for 10-12 residents annually, Stephen's Place believes that men returning to the community after incarceration should have a safe, spiritual environment in order to address early recovery from substance abuse as well as develop personal life skills. Therefore, Stephen's Place provides a Half-Way House to help these men transition back into the community as productive citizens.
About Sister Virginia
Sister Virginia Longcope was raised in Dublin, Pennsylvania. In 1959, she made her first profession in the Congregation of the Missionary Sisters of the Sacred Heart of Jesus in Reading. In 1969, she was awarded a bachelor's degree in elementary education from Villanova University, and for 18 years she taught elementary school throughout the Allentown and Philadelphia Dioceses. Sister earned a master's degree in Religious Studies at Saint Charles of Borromeo Seminary that prepared her for a Clinical Pastoral Care program. In 1985, Sister Virginia went from the doors of a fifth grade classroom in a small town near Whitehall to the gates of a maximum-security prison in Columbia, South Carolina. There she completed a one-year Clinical Pastoral Education Program at a maximum-security prison in Columbia, followed by a master's degree in social work from the University of South Carolina. From May 1989 until September 1992, she worked as a social worker in the S.C. Department of Corrections.
March 29, 2018
Stephen's Place receives support from neighbor at recent Bethlehem City Council meeting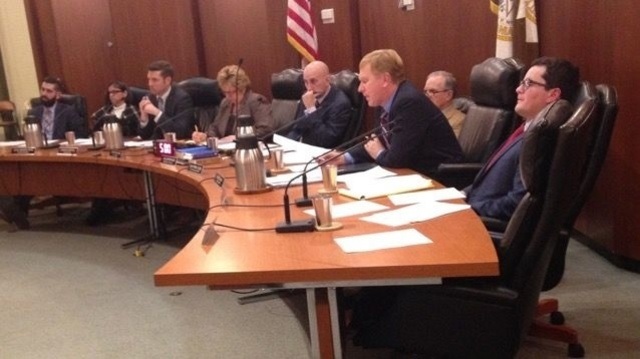 The city of Bethlehem held its recent City Council meeting on March 6th 2018 in the town hall. Back in 1992-93 during the inception of Stephen's Place, Sister Virginia Longcope had to face some resistance in the community while pursuing her mission of opening a halfway house for men. Although the stigma has changed over the years, men and women returning to the community after incarceration have an uphill battle with many obstacles.
Thankfully for them, and us, there are caring and supportive individuals like Sister Virginia Longcope who has gone about pursuing her mission of Stephen's Place making a truly positive impact in the community. It was during Bethlehem's most recent city council meeting that Stephen's Place neighbor, Stephen Antalics, addressed the council with some comments about Sister Virginia and the men who come to Stephen's Place. Mr. Antalics asked the city council, "how many of you have your sidewalks shoveled by your neighbors?"
Over the last 25 years Sister Virginia and Stephen's Place have made a lasting impression on the Greater Lehigh Valley community. Stephen's Place' neighbor Mr. Antalics said, "she is a dedicated women who really gives up her life to rehabilitate those people who are coming out of jail to become good citizens."
Mr. Antalics pointed out that the people in her home we know are addicted and they come out cured in the majority of the cases, but there are the addicts we do not know about by name who might live next door to you.
Mr. Antalics went on to say that if someone is attempting to open a rehabilitative center in your area to keep in mind that there may be more addicts or dangerous individuals in the high school then ones in the rehabilitation center. He asked City Council to set an idea in their mind about people who come forth and admit they are addicted…
"We should give them an opportunity to find a cure and support people trying to recover from addiction rather than say we do not want this in our neighborhood"
Stephen's Place and the recovery community as a whole are grateful for individuals like Mr. Antalics speaking out about his experience and showing support for people trying honestly to better themselves and return to the community as productive members.
Thank you so much Mr. Antalics for your kind words at the City Council meeting! Stephen's Place is lucky to be able to call you our neighbor!
March 14, 2018
Sister Virginia Featured in The Morning Call
February 16, 2018
Stephen's Place 2018 Winter Newsletter
July 31, 2017
Annual Beach Trip to Ocean City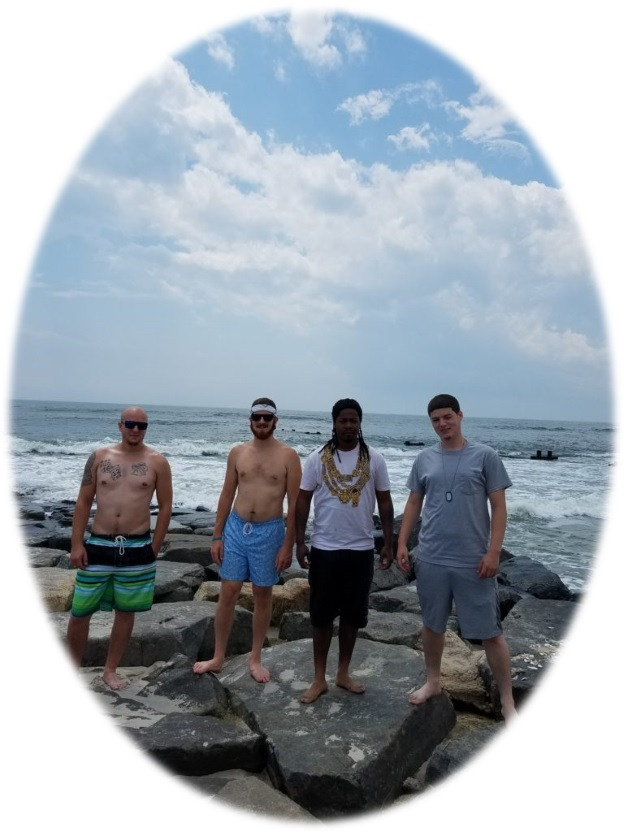 Through the continued generosity and support of our donors and the community Stephen's Place was able to take our annual summer beach trip!
     This weekend long recreational activity is one that is highly anticipated by the residents of Stephen's Place. Friday July 14th we departed for Ocean City, New Jersey. Upon arrival the men got settled into their hotel room and sought out a nearby Narcotics Anonymous (NA) recovery meeting. One of the reasons we select Ocean City, NJ for this excursion is because this is a dry town, meaning they do not sell any alcohol. The men are still expected to be accountable to the requirements of the program here at Stephen's Place and with that they are required to make their NA /AA meetings.
     The gentleman enjoyed spending time in the hotel Jacuzzi and pool the first evening. The next day was spent on the beach where the men were able to enjoy the beautiful sun, water, and waves! Some of them shared that this was their first experience going to the beach without the presence of drugs or alcohol.
     The purpose of these recreational bonding activities is for the men to feel what good things life has to offer without getting drunk or high. Part of building a sustainable life beyond addiction to drugs and alcohol means finding enjoyment and happiness in your life to create balance. Not only do these activities give the residents something to look forward to and a chance to really bond with one another, it shows them how to enjoy life. This can be especially important when coming from the dark place addiction can take you, it can generate hopefulness for the future!
 It is our hope that we will be able to take this exciting trip again next year!
Thank you all for your care and concern and support in our daily effort to change and save lives by breaking the cycle of addiction in our community!
July 21, 2017
Stephen's Place Summer Newsletter!