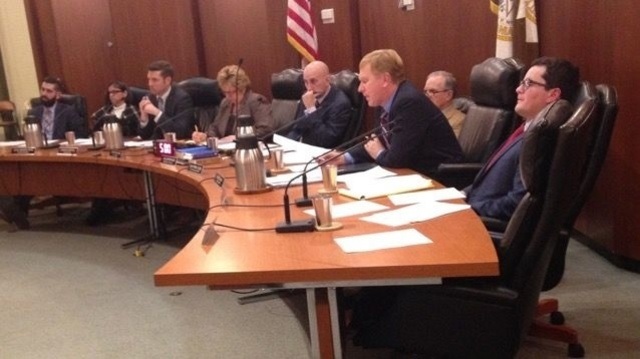 The city of Bethlehem held its recent City Council meeting on March 6th 2018 in the town hall. Back in 1992-93 during the inception of Stephen's Place, Sister Virginia Longcope had to face some resistance in the community while pursuing her mission of opening a halfway house for men. Although the stigma has changed over the years, men and women returning to the community after incarceration have an uphill battle with many obstacles.
Thankfully for them, and us, there are caring and supportive individuals like Sister Virginia Longcope who has gone about pursuing her mission of Stephen's Place making a truly positive impact in the community. It was during Bethlehem's most recent city council meeting that Stephen's Place neighbor, Stephen Antalics, addressed the council with some comments about Sister Virginia and the men who come to Stephen's Place. Mr. Antalics asked the city council, "how many of you have your sidewalks shoveled by your neighbors?"
Over the last 25 years Sister Virginia and Stephen's Place have made a lasting impression on the Greater Lehigh Valley community. Stephen's Place' neighbor Mr. Antalics said, "she is a dedicated women who really gives up her life to rehabilitate those people who are coming out of jail to become good citizens."
Mr. Antalics pointed out that the people in her home we know are addicted and they come out cured in the majority of the cases, but there are the addicts we do not know about by name who might live next door to you.
Mr. Antalics went on to say that if someone is attempting to open a rehabilitative center in your area to keep in mind that there may be more addicts or dangerous individuals in the high school then ones in the rehabilitation center. He asked City Council to set an idea in their mind about people who come forth and admit they are addicted…
"We should give them an opportunity to find a cure and support people trying to recover from addiction rather than say we do not want this in our neighborhood"
Stephen's Place and the recovery community as a whole are grateful for individuals like Mr. Antalics speaking out about his experience and showing support for people trying honestly to better themselves and return to the community as productive members.
Thank you so much Mr. Antalics for your kind words at the City Council meeting! Stephen's Place is lucky to be able to call you our neighbor!